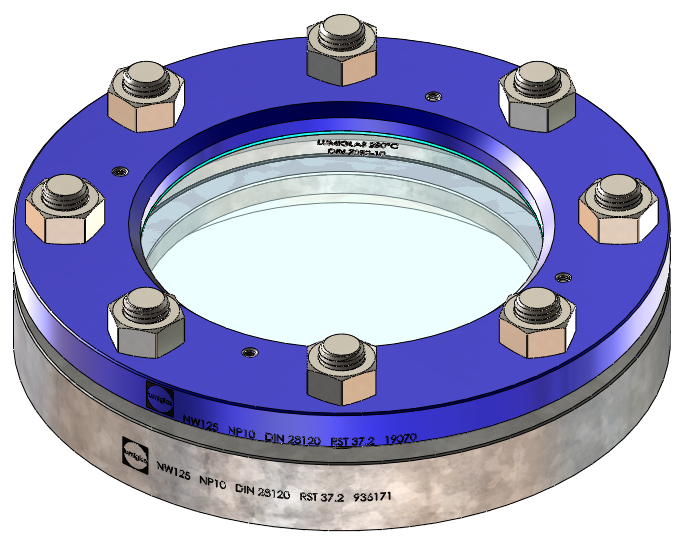 Papenmeier - F. H. / Lumiglas
Lumiglas Circular Sightglass Weld-On, Carbon Steel Housing, Borosilicate Window, ASME Class 150
Nominal Pipe Size: ISO-125, Pressure Rating: 150 psi, Housing Material: Carbon Steel RST 37.2, Cover Flange Material: Carbon Steel RST 37.2, Window Material: Tempered Borosilicate Glass, Seal Gasket: Teflon, Bolting Material: Zinc Plated Carbon Steel 5.6
Weld-on circular sightglass for a quick observation inside pressure vessels, silos, pipelines, oil tanks, mixers separators. This sightglass fitting comes standard with all seals and mounting hardware included. The kit includes one Weld pad, one Cover flange, one toughened borosilicate disc, one seal gasket, one cushion gasket made from Klinger(R) C-4400, eight mounting studs. The Weld pad is flat on the bottom and has a weld prep chamfer ready to be welded to a flat process wall. Curvature can be machined in as needed to match non-flat vessel walls. This kit is suitable for clean room applications, semiconductor, pharmaceutical or food processing applications with requirements for sanitary use. After welding the ferrule (weld pad) the sightglass disc has a permanent dedicated location on the pressure vessel. Cover flange, window, seals and mounting hardware can be replaced during scheduled service intervals or as needed. Sightglass disc and the gaskets must be replaced whenever the assembly is taken apart.
·
Tempered Borosilicate Glass
·
Zinc Plated Carbon Steel 5.6
·
Gasket Dimensions
127 x 100 x 1.5 mm Thick, for Seal Gasket and Cushion Gasket.
·
Cushion Gasket
Klinger C-4401 Compressed Non-Asbestos Fiber.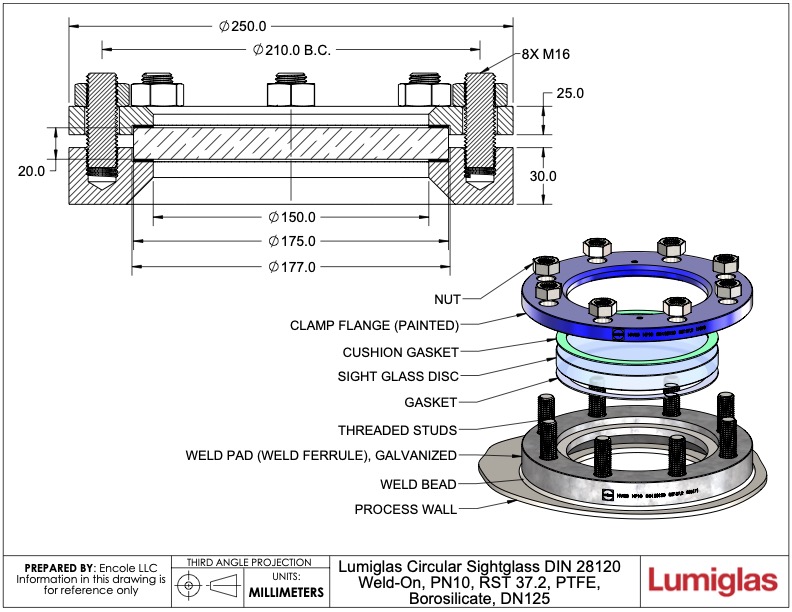 The information in this Drawing and 3-D models is provided for reference only.
Details
Product Drawings and CAD Models Disclaimer
Manufacturing processes and resulting tolerances may result in variations in the specifications provided. Many manufacturers consider their GD&T proprietary and do not provide this to Encole. While we believe the information to be generally correct, it is subject to change without notice and is not guaranteed. Drawings and CAD models are prepared by the Original Manufacturers or CAD expert contibutors or Encole staff.
Manufacturer's part number:
DN-
D
1
-A
A
1
A1
K
A
N
N
N
Manufacturer:
Papenmeier - F. H. / Lumiglas
Supplier:
L.J. Star Incorporated
Twinsburg, OH
Tel.: (330) 405-3040