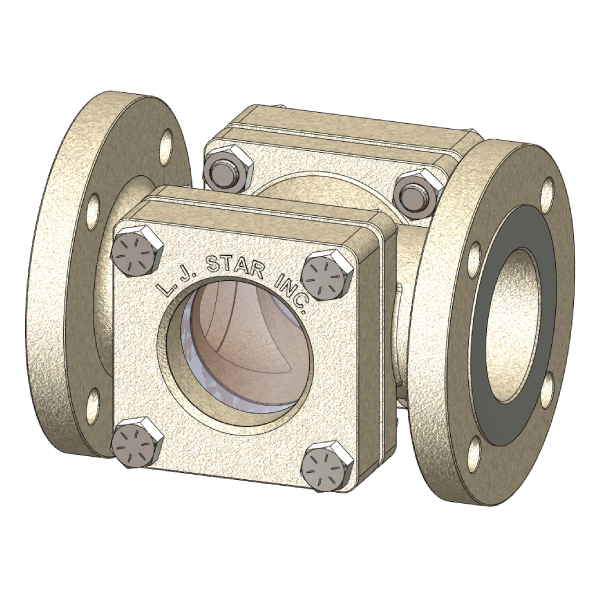 L.J. Star, Inc
Plain Style Flow Indicator with Flanged ASME B16.5 Connections
ASME Class: Class 150, Pipe Size: 1/2 inch, Housing Material: Stainless Steel 316, Window Material: Tempered Borosilicate Glass
, Sealing Gasket: PTFE Gylon 3504
, Lining Option: No Lining
, Bolting Material: SAE Gr. 5 Carbon Steel
, Shield Option: No Shield
Visual flow indicator with ASME B16.5 flanged connections. Designed with front and back windows for backlighting making it easy to see flow variations inside any pipeline, even when used with dark liquids. There are no inserts between the two windows, this flow indicators is best suited for non-homogeneous fluids to see bubbles, color changes and any indication of flow variations within the fluid. This model offers pipeline view through windows internally sealed to the metal housing with flat gaskets. Connections are ANSI RF flanges at the inlet and outlet of the housing. May be installed in-line of a pipeline in any position to observe flow in any direction. This indicator is usually employed to detect either the presence or absence of solutions, or to observe fluids for turbulence, color or clarity. Standard safety and maintenance features include independently bolted glass retainers.
·
Tempered Borosilicate Glass
·
Housing Finish
Investment cast surface finish.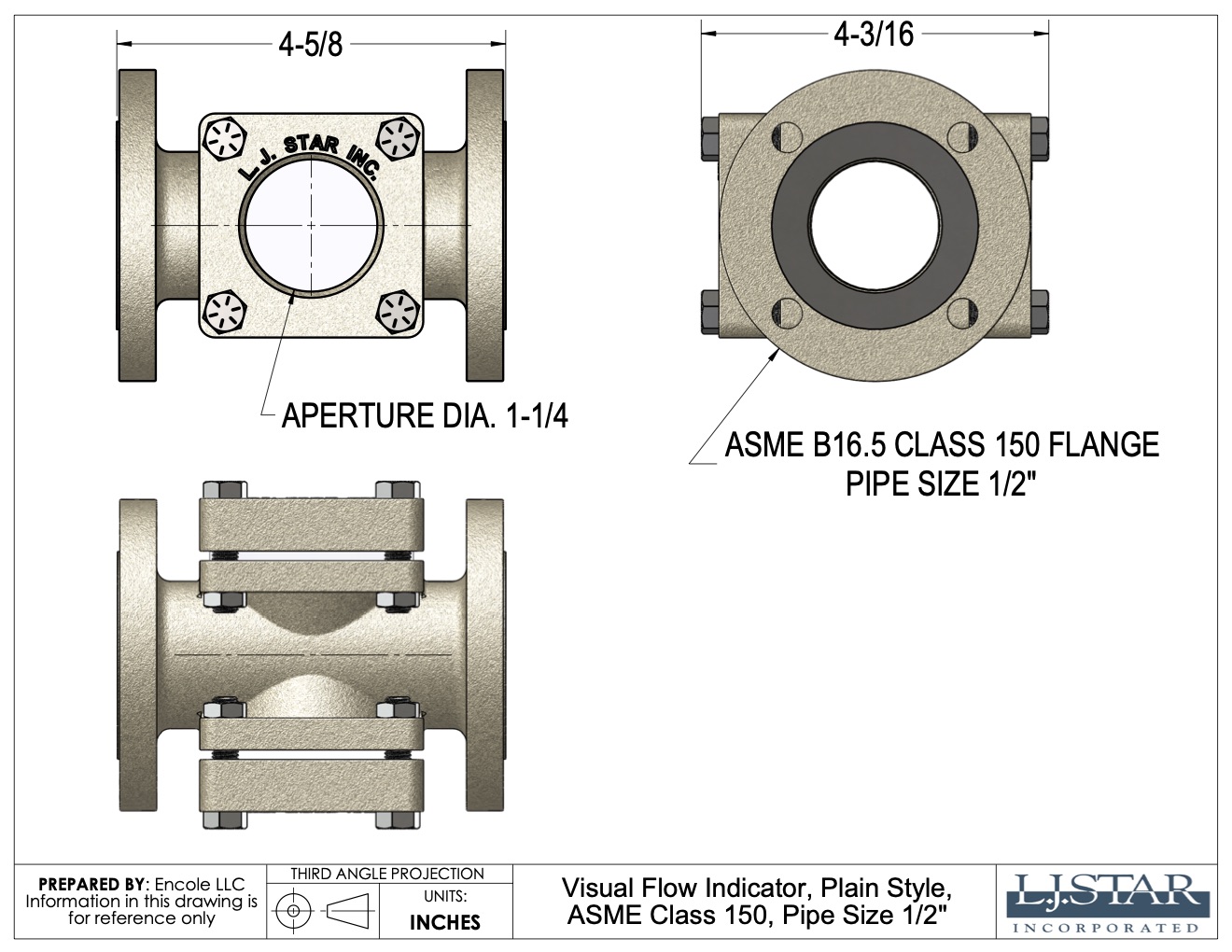 The information in this Drawing and 3-D models is provided for reference only.
Details
Product Drawings and CAD Models Disclaimer
Manufacturing processes and resulting tolerances may result in variations in the specifications provided. Many manufacturers consider their GD&T proprietary and do not provide this to Encole. While we believe the information to be generally correct, it is subject to change without notice and is not guaranteed. Drawings and CAD models are prepared by the Original Manufacturers or CAD expert contibutors or Encole staff.
Manufacturer's part number:
1
5
04
C
H
N
N
1
N
Manufacturer:
L.J. Star, Inc
Price: $
483.06
each
0.01
0
0.01
0.01
Supplier:
L.J. Star, Inc
Twinsburg, OH
Tel.: (330) 405-3040