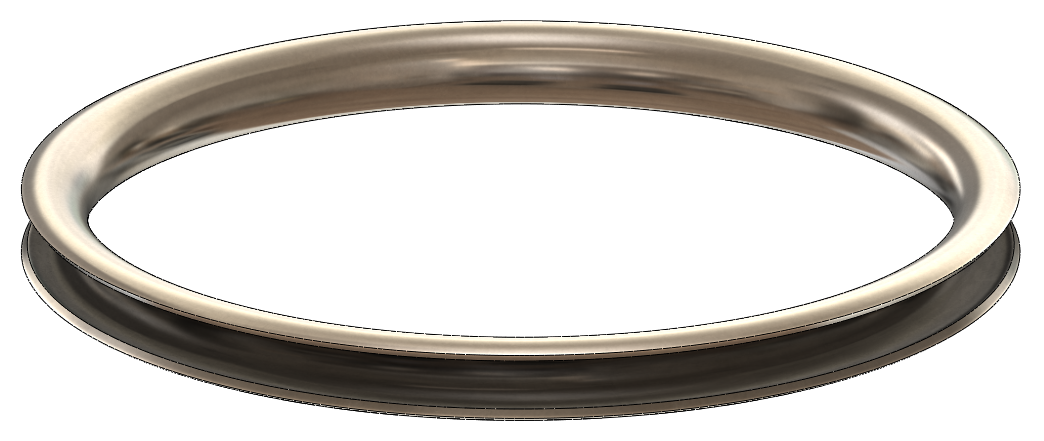 JetSeal
C-Seal, 718 Alloy, External Pressure, Nominal Width 1/8"
Seal Section Geometry: C-Seal, Seal ID: 2.878", Metal Thickness: 0.010", Seal Section Geometry: C-Seal, Material: Alloy 718
, Heat Treatment: None
, Plating or Coating Thickness: None
Alloy 718 metal C-seal for critical applications. Designed to hold the pressure coming from outside of the seal circumference. In other words, pressure outside the seal envelope is greater than the pressure inside the seal inner diameter. Nominal cross-section is 1/8", actual free height is 0.125". This seal is designed for a long life without creep or relaxation under most severe temperature and pressure swings. The sealing surfaces are profile-lapped to ensure continuous sealing contact in static applications and also in situations where the seal can slide on the landing surface due a mismatch in coefficients of thermal expansion. This seal is not vibro-finished or tumbled as most generic seals. This is not a generic seal. C-seals manufactured by JETSEAL are proven to work in semiconductor vessels under ultra-high vacuum, He-gas leak tight; and also can hold high pressure at high temperature, a rather difficult engineering task. These are the highest quality metal C seals available on the market today. For vacuum systems the mating sealing surfaces (landing surfaces) should be finished to Ra 8 micro-inches in a circular lay pattern around the axis of the groove. For viscous fluids, groove surface finish of Ra 16 is acceptable.
Plating or Coating Thickness:
·
Seal Material Specification
AMS 5596, AMS 5589
·
Temperature Limit
1200 F (648 C). Temperature may be exceeded for short durations.
·
Material Remarks
Alloy 718 has superior performance over the temp range; (NACE approved H2 service)
·
Cavity ID Tolerance
+0/-0.003"
·
Seal ID Tolerance
+0.004"/-0
·
Seal Compression in Cavity
0.025"
·
Seal Springback
0.0055"
·
Seating Force per Inch Circle
200 lbs at ambient pressure and nominal deflection, (for Alloy 718 as reference).
·
Plating Remarks
Seal is inert gas annealed at 950F during plating.
·
Heat Treatment Remarks
Strain hardened condition.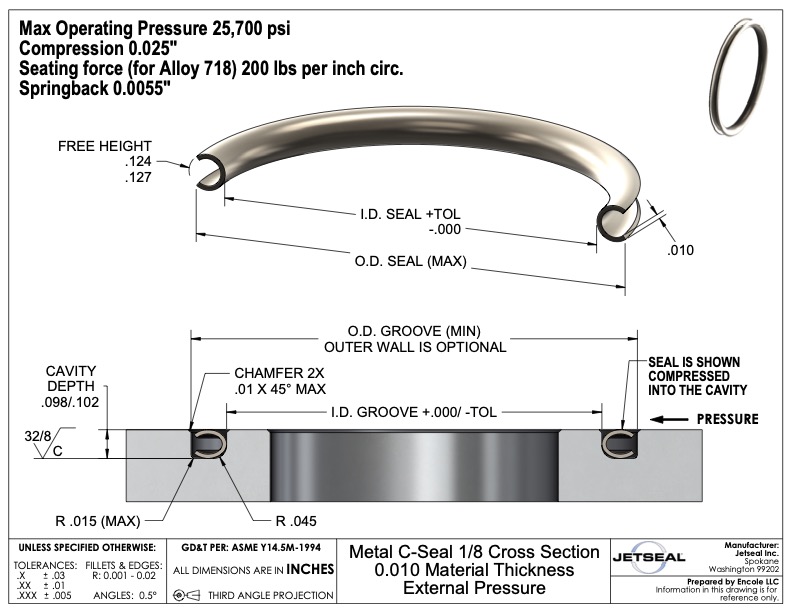 The information in this Drawing and 3-D models is provided for reference only.
Details
Product Drawings and CAD Models Disclaimer
Manufacturing processes and resulting tolerances may result in variations in the specifications provided. Many manufacturers consider their GD&T proprietary and do not provide this to Encole. While we believe the information to be generally correct, it is subject to change without notice and is not guaranteed. Drawings and CAD models are prepared by the Original Manufacturers or CAD expert contibutors or Encole staff.
Manufacturer's part number:
J
CE-
02878
-07
-01
-00
Price: $
Contact Manufacturer
0
0
Supplier:
JetSeal
Spokane, WA
Tel.: 509-467-9133