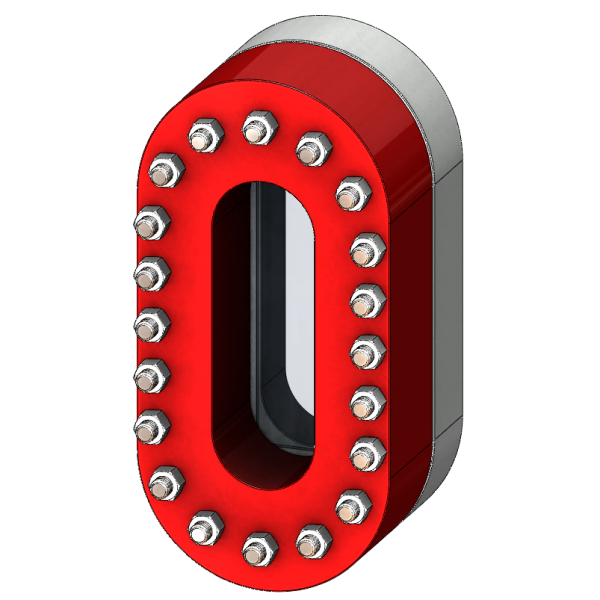 L.J. Star, Inc
Obround Weld Pad Gauge Sight Glass
Width: 7 inch, Length: 17 inch, Housing Material: 316L Stainless Steel, Window Material: Tempered Borosilicate Glass, Cover Flange Material: Painted Carbon Steel SA516-70, Cushion Gasket: Klinger C-4401 Compressed Non-Asbestos Fiber, Bolting Material: 304 Stainless Steel
, Seal Gasket: Gylon 3504
, Radius Pad: No
Obround sight glass designed for visual inspection of levels inside a tank or a pipeline. The sight glass base is a weld pad designed to be welded directly to the pressure vessel. The glass is sandwiched between a sealing gasket and a cushion gasket held in place with a clamping flange. The cushion gasket is made from a material harder than the sealing gasket to insure proper compression. Glass is clear, made from tempered borosilicate. This window is suitable for the ASME pressure code requirements. The kit comes with all the hardware included. Weld pad is flat. Per customer request the weld pad can be specified curved to fit circular vessels of a particular diameter.
·
Tempered Borosilicate Glass
·
Klinger C-4401 Compressed Non-Asbestos Fiber
·
View Size
4 x 12 inches (102 x 305) mm
·
Bolting Material Notes
ASTM A193-B8 (studs) / A194-8 (nuts)
·
Radius Pad Notes
Standard unit comes with a flat weld pad.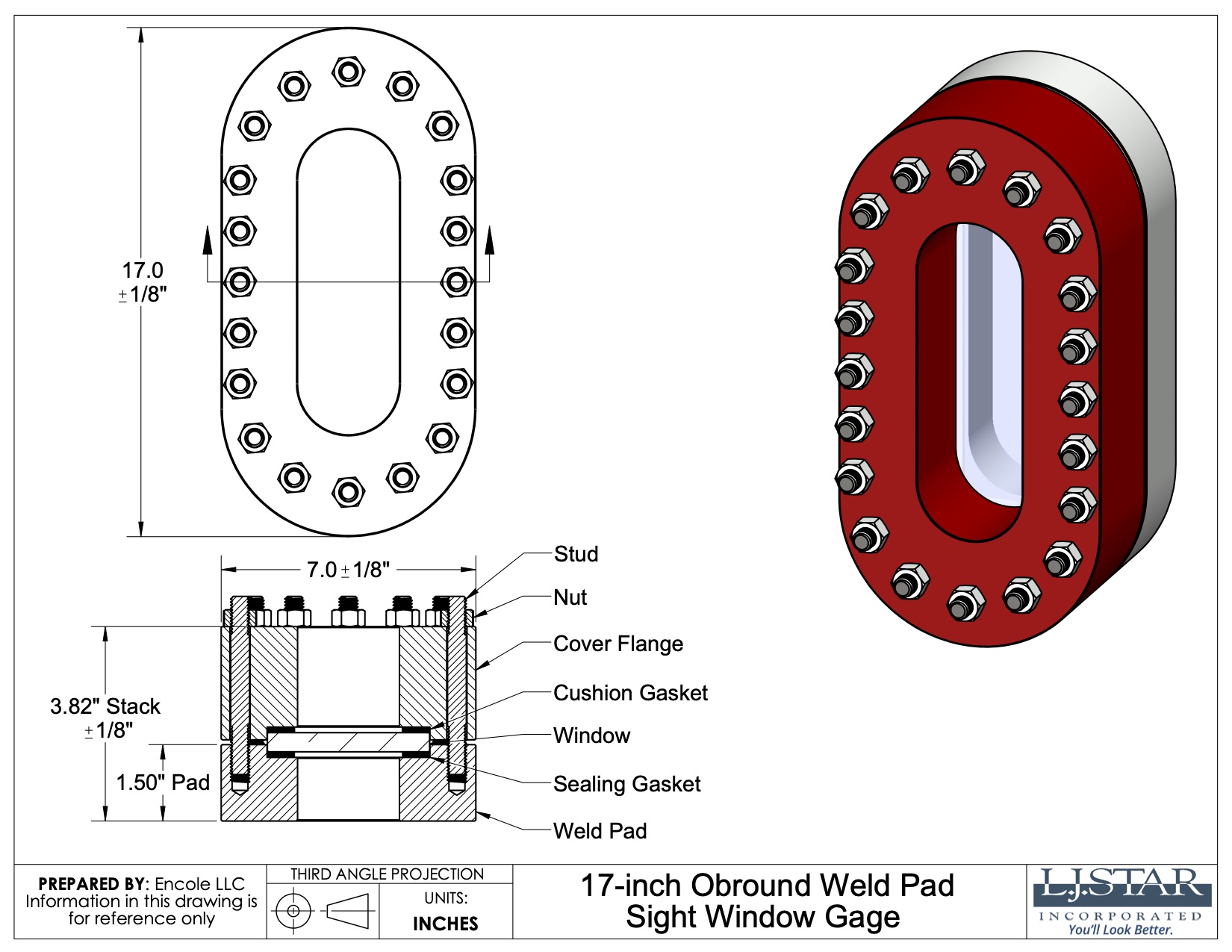 The information in this Drawing and 3-D models is provided for reference only.
Details
Product Drawings and CAD Models Disclaimer
Manufacturing processes and resulting tolerances may result in variations in the specifications provided. Many manufacturers consider their GD&T proprietary and do not provide this to Encole. While we believe the information to be generally correct, it is subject to change without notice and is not guaranteed. Drawings and CAD models are prepared by the Original Manufacturers or CAD expert contibutors or Encole staff.
Manufacturer's part number:
OB-
4
x12
-B
1
A
B
1
B
N
Manufacturer:
L.J. Star, Inc
Supplier:
L.J. Star, Inc
Twinsburg, OH
Tel.: (330) 405-3040