Papenmeier - F. H. / Lumiglas
Rectangular Sightglass Fitting
Length: 300 mm, Housing Material: Stainless Steel 316L, Cover Flange Material: Carbon Steel RSt 37.2, Window Material: Reflex Tempered Borosilicate Glass, Seal Gasket: Gylon 3504, Bolting Material: Zinc Plated Carbon Steel 5.6
, Radius Pad: No
Base frame (weld-pad) is welded onto the vessel wall. The glass is sandwiched between gaskets on both sides and is held in place with a cover flange, bolted to the base flange. For use as a fluid level visual indicator inside silos, pressure tanks, and internals of pipelines. Reflex glass is 34 mm wide and 17 mm thick. It has prismatic grooves using light refraction to better differentiate level without internal lighting in the vessel.
·
Reflex Tempered Borosilicate Glass
·
Mounting Screws Size
Cap Screws M10 x Length 40 mm
·
Cushion Gasket
Klinger C-4401 Compressed Non-Asbestos Fiber
·
Radius Pad Notes
Weld pad can be machined with a radius matching vessel curvature. Specification on request. Standard unit comes with a flat pad.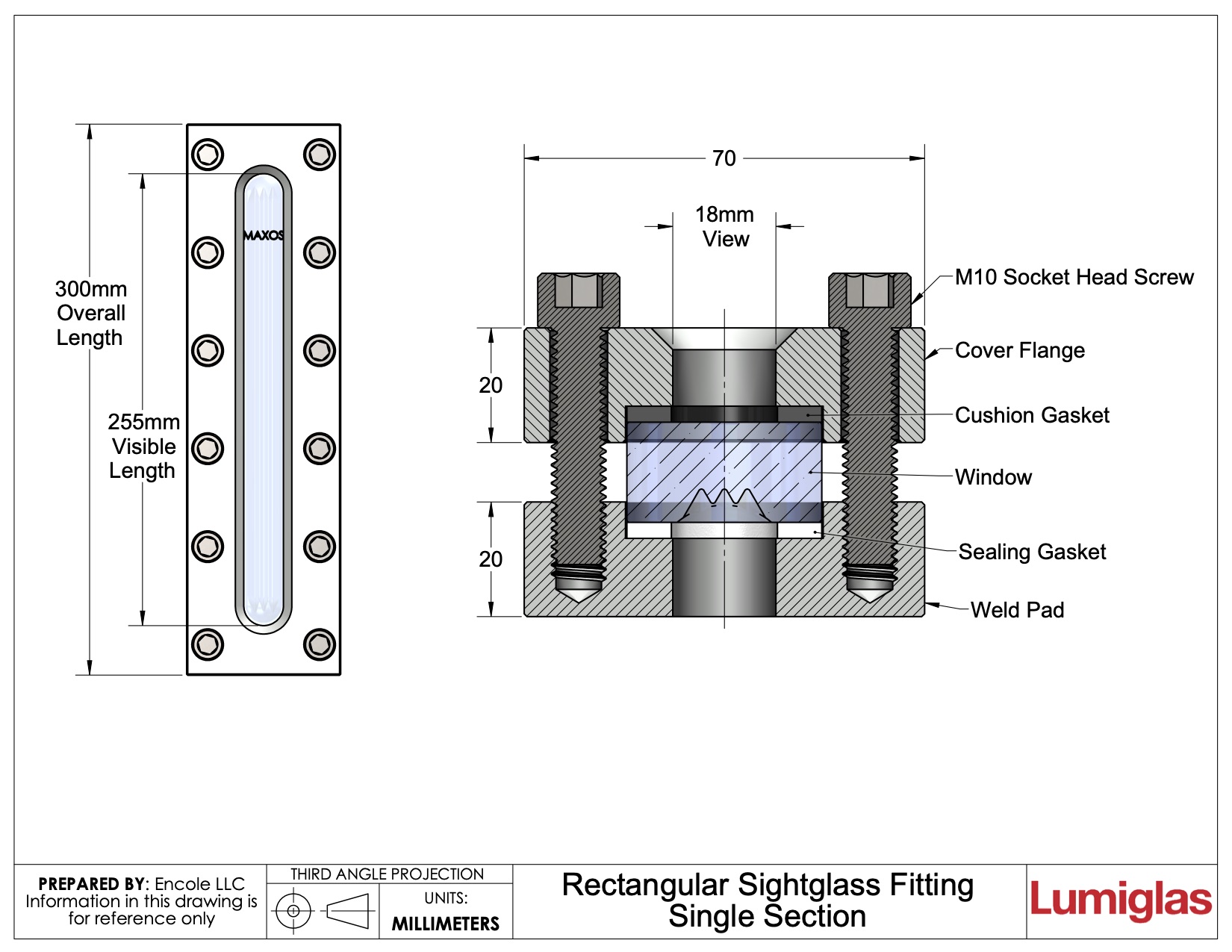 The information in this Drawing and 3-D models is provided for reference only.
Details
Product Drawings and CAD Models Disclaimer
Manufacturing processes and resulting tolerances may result in variations in the specifications provided. Many manufacturers consider their GD&T proprietary and do not provide this to Encole. While we believe the information to be generally correct, it is subject to change without notice and is not guaranteed. Drawings and CAD models are prepared by the Original Manufacturers or CAD expert contibutors or Encole staff.
Manufacturer's part number:
REC-
300-
C
A
2
A
1
D
N
N
Manufacturer:
Papenmeier - F. H. / Lumiglas
Supplier:
L.J. Star, Inc.
Twinsburg, OH
Tel.: (330) 405-3040