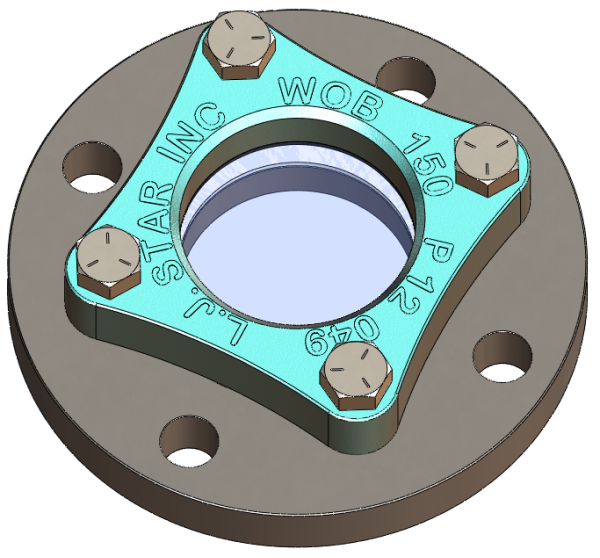 L.J. Star, Inc
Bolt-On Sight Window ASME B16.5 Raised Face (RF)
Nominal Pipe Size: 3", Housing Material: Carbon Steel RST 37.2, Cover Flange Material: Carbon Steel RST 37.2, Window Material: Tempered Borosilicate Glass, Bolting Material: Zinc Plated Carbon Steel 5.6
, Seal Gasket: Gylon 3504
Bolt-on sight window fitting the standard ASME B16.5 Class 150 geometry. This is an RF (Raised Face) type flange. It's easy to visually identify this type of flange by the sealing surface raised above the bolt circle area. Raised face surface provides a smaller contact area for the gasket, thereby increasing the compression force and thus a more uniform sealing capability than a flat face flange. The base flange mounts to the mating flange using traditional installation methods using mounting bolts. The base flange is sealed to the customer vessel with a gasket. A glass window is then inserted into the base flange sealing with a seal gasket. The glass window is sandwiched between the sealing gasket and a cushion gasket protecting the window from vibration. A flange retainer completes the assembly landing onto the cushion gasket. The flange retainer is held by cap screws to the base flange.
·
Tempered Borosilicate Glass
·
Zinc Plated Carbon Steel 5.6
·
Gasket Dimensions
4-1/8" x 3-1/8" x 1/16" Thick
·
Window Dimensions
4-1/8" x 1/2"
·
Cushion Gasket
Klinger C-4401 Compressed Non-Asbestos Fiber.
·
Cushion Gasket Dimensions
Cushion gasket thickness is 1/32". The diameters are the same as the seal gasket.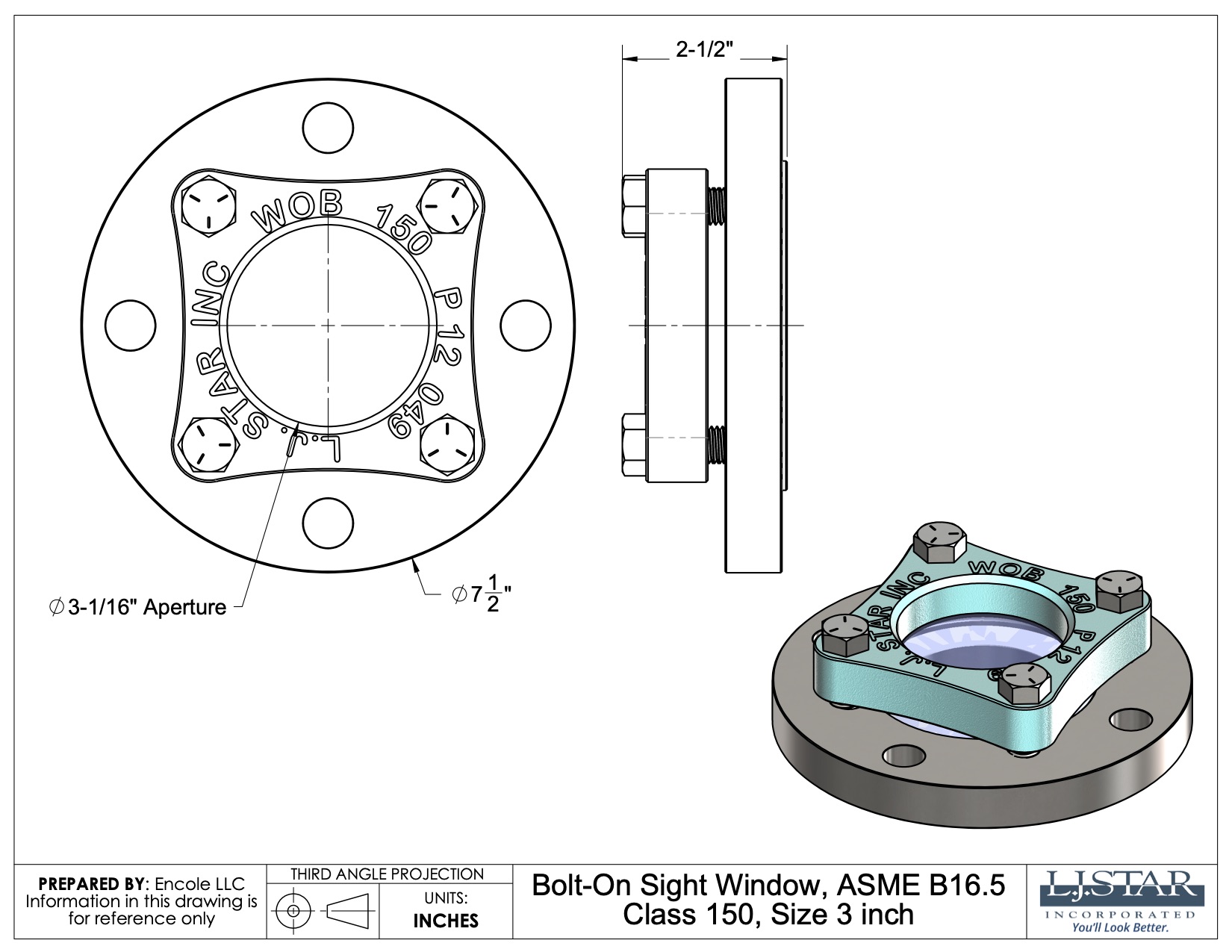 The information in this Drawing and 3-D models is provided for reference only.
Details
Product Drawings and CAD Models Disclaimer
Manufacturing processes and resulting tolerances may result in variations in the specifications provided. Many manufacturers consider their GD&T proprietary and do not provide this to Encole. While we believe the information to be generally correct, it is subject to change without notice and is not guaranteed. Drawings and CAD models are prepared by the Original Manufacturers or CAD expert contibutors or Encole staff.
Manufacturer's part number:
BO-
03
A
A
1
H
1
A
N
N
Manufacturer:
L.J. Star, Inc
Supplier:
L.J. Star, Inc
Twinsburg, OH
Tel.: (330) 405-3040