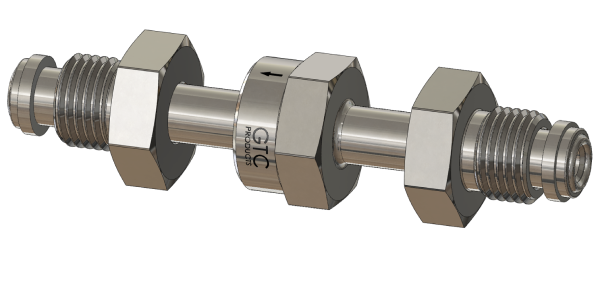 GTC Products Inc.
Ultra High Purity Check Valve, Swivel Male VCR® Connections Union, Electropolished 316L VAR SS
Inlet: VCR 1/4" Swivel Male , Outlet: VCR 1/4" Swivel Male
Both inlet and outlet connections are identical Swivel Male VCR® Swagelok fittings. This is an ultra high purity check valve in electropolished 316L stainless steel body having no internal spring. Typical uses are vacuum lines in Class 10,000 semiconductor fabs. This valve has a springless design with all welded construction ensuring chatter-free operation. An ideal choice for applications with requirements for particle-free generation, such as in vacuum reactor vessels, photonics, medical and pharmaceutical equipment. Both inlet and outlet connections are identical swivel male VCR* fittings. The valve is assembled and tested in the GTC Products, Texas USA facility. VCR is a trademark of Swagelok Company.
·
Seal Material Notes
Cleanroom Grade Viton(™).
·
Body Material Notes
Valve body is electropolished.
·
Proof / Burst Pressure
5,000 / 12,000 psi
·
Flow Coefficient
0.31 at full open - 600 SLPM at 100 psi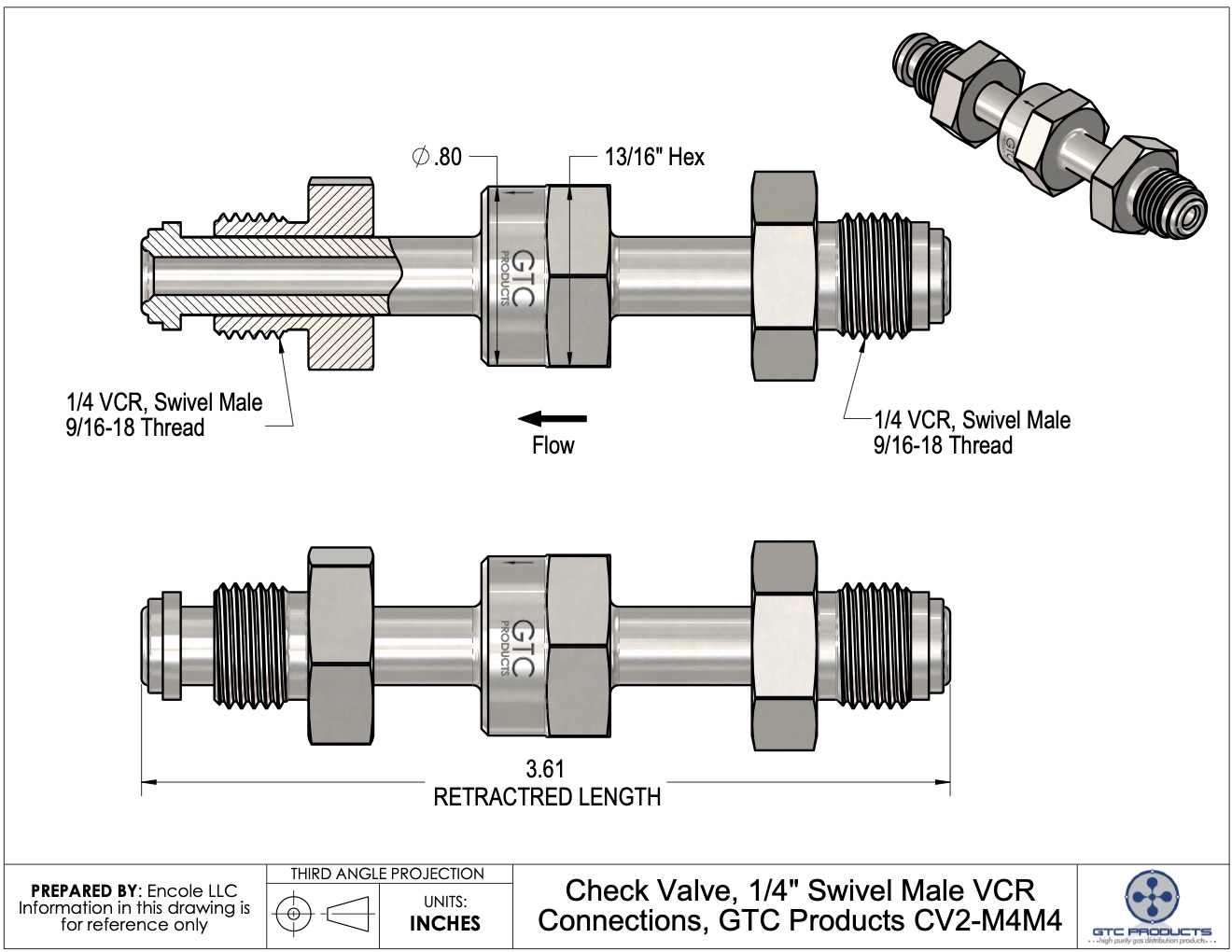 The information in this Drawing and 3-D models is provided for reference only.
Details
Product Drawings and CAD Models Disclaimer
Manufacturing processes and resulting tolerances may result in variations in the specifications provided. Many manufacturers consider their GD&T proprietary and do not provide this to Encole. While we believe the information to be generally correct, it is subject to change without notice and is not guaranteed. Drawings and CAD models are prepared by the Original Manufacturers or CAD expert contibutors or Encole staff.
Manufacturer's part number:
CV2-
M4
M4
Manufacturer:
GTC Products Inc.
Supplier:
GTC Products Inc.
New Braunfels, TX
Tel.: (830) 627-9848